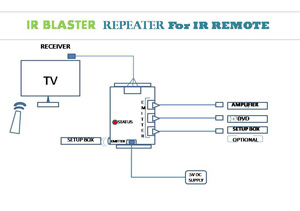 The Hidden IR Repeater System allows you to use an existing
infrared (IR) remote control to operate up to for audio/video
(A/V) components located behind closed doors or walls in an
entertainment cabinet or equipment closed. The built-in IR
distribution technology gives you the ability to conceal, yet still
control, bulky electronic equipment such as a cable or satellite
TV receiver, stereo receiver or amplifier, SETUP Box, CD player,
DVD player, Blue-ray player, or virtually any component
controlled by an IR signal. The system uses an IR receiver to take
in the IR signals from an existing remote control and distribute
those signals IR emitters to A/V components. No more leaving
cabinet doors open or struggling to remotely access your hidden
equipment, you'll be able to control A/V components with
extreme reliability.
Benefits
➢High sensitivity: Remote control signal receiving real-time
response to fast forward without delay.
➢Allows IR signals to pass through solid doors or walls, line-of-
sight to the components is not required Confirmation LED built-
in to the IR receiver acknowledgesreceipt of IR commands.
➢Easy Setup: This IR Repeater System is easy to use and sets up
in minutes.
➢Control Audio Video Components in Entertainment Cabinets
or Equipment Closets using Existing IR Remote Controls.